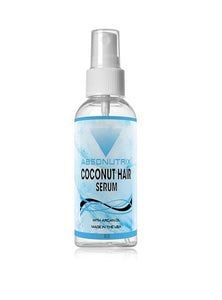 Absonutrix Coconut Hair Serum With Argan oil Made in USA
Absonutrix  Coconut Hair Serum

Promotes Scalp and Hair health
 

Absonutrix Coconut hair serum with Argan Oil and vitamin E

 

SUGGESTED USE: Apply a small amount in hands and massage in hair after towel drying. Comb through and style as normal 

WARNING: For external use only. Do not use near eyes and mouth. Keep away from children.

INGREDIENTS: Fractionated coconut oil, vegetable glycerin, castor oil, Argon oil, propylene glycol, Vitamin E, keratin, provitamin B5.

 MADE IN USA: The product is made exclusively in the US, right from the sourcing of ingredients to the packaging. This ensures complete control over quality. Absonutrix products undergo rigorous testing before distribution. This product is not tested on animals.